Kitchen & Bathroom Designs
Gallatin Valley Carpet One Floor & Home in Bozeman is your local retailer for flooring as well as kitchen and bath services. We carry a vast selection of flooring options that are ideal for all areas of your home, including in kitchens and bathrooms. Tile and luxury vinyl are both highly functional in high-moisture rooms, and with our extensive collection it can be difficult to choose which floor you want. We are here to help you decide on the flooring that fits your budget, style, and function for your next project.
Kitchen and Bathroom Flooring Ideas
Tile has been a staple material in kitchens and bathrooms for years. Not only is tile an excellent choice for flooring, but it can also be used for backsplashes and custom showers to create a unified bathroom style. To customize your bathroom, choose several tiles or tile types and combine them in one space while sticking to your overall design plan. If you prefer a charming, luxurious wood floor, choose wood look tile that copies the style of wood floors with the durability of tile. Tile is easy to clean, low-maintenance, and stands up well to high amounts of foot traffic.
Luxury Vinyl is growing in popularity due to its increased ability to mimic hardwood and stone. Luxury vinyl is scratch resistant and functions well in environments where floors are exposed to accidents and wear and tear. Vinyl floors require minimal maintenance and are ideal for busy families.
Learn about our Waterproof Flooring
Learn about Countertops
Learn about Cabinets
Waterproof Flooring

Waterproof flooring is perfect for kitchens and bathrooms due to its ability to resist moisture. Learn more about what kind of waterproof flooring we carry.
It may seem like a minimal upgrade, but adding or updating a kitchen or bathroom backsplash can enhance your room considerably. Whether you want a timeless classic like subway tile or a trendy glass tile, backsplash can change the ambiance of any kitchen or bathroom by adding a splash of personality. Due to the durable nature of tile, its place as backsplash makes for easy cleaning and maintenance. Dust does not stick to tile, so wiping it down with a sponge occasionally and scrubbing grout lines is the best way to keep it looking fresh.
Kitchen and Bathroom Backsplashes

Tile is versatile and works for all kinds of projects, including flooring and backsplash. If you still have questions about tile, follow the link below to learn more.
Tiled showers are functional parts of a bathroom that are essential to creating the most relaxing bathroom atmosphere. By investing in a custom shower, you are adding real estate value to your home while also treating yourself to a place where you can enjoy every day. Customized tile showers are also beneficial because they are easy to keep clean and maintain. Tiled showers are not prone to chipping or cracking, because they are durable and resistant to moisture. They also do not collect debris and can be wiped down quickly and easily.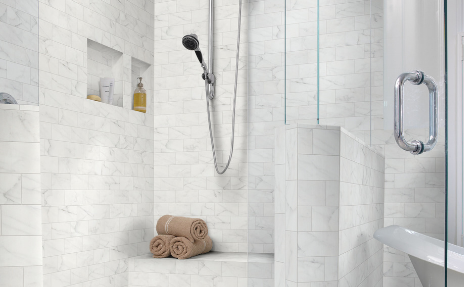 It is not always easy to choose tile for your space with all the designs available. If you have decided to install a custom shower, we recommend you start looking at design trends, friend's showers, and magazines for inspiration. We can help you remodel your custom shower today!
Kitchen Installations
Whether you're seeking a smart and stylish floor that can, literally, make a splash, or some new cabinetry to boost storage potential and keep your countertops clutter-free, we can help you make it happen.
Bathroom Installations