Karndean Designflooring
When other floors simply aren't clicking, Karndean Designflooring luxury vinyl flooring offers up a functional and fabulous alternative to laminate. This is not your everyday synthetic flooring. Karndean is a name you can always count on, and its luxury vinyl is as chic as it is carefree. Built to stay flawless throughout your hectic day, Karndean readily resists spills, splashes, and scratches while concealing subfloor imperfections.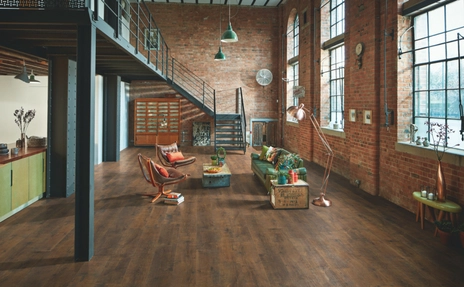 Explore Karndean
At Gallatin Valley Furniture Carpet One Floor & Home, we're honored to offer an extensive inventory of Karndean luxury vinyl flooring and related products. Let's learn more about this bold and groundbreaking family of luxury vinyl flooring.
Some of our featured Karndean luxury vinyl products include:
Van Gogh – Just like its organic counterpart, this synthetic flooring is offered up in an eclectic range of authentic-appearing wood effects.
Art Select – Assuming the natural appearance of hardwood and stone, this flooring is truly a masterpiece.
Opus – Made to handle commercial specifications, these bold tiles and planks have looks that impress.
Knight Tile – This impressive vinyl tile is designed to impress with the convincing appearance of hardwood plank.
Da Vinci – These wide beveled vinyl tiles capture the lovely looks of stone and wood.
LooseLay – Quick, easy, and innovative flooring that's heavy on design, light on care requirements.
Are you considering Karndean for your next flooring project? Visit our Bozeman retail center today and learn what Karndean can do for you and yours.